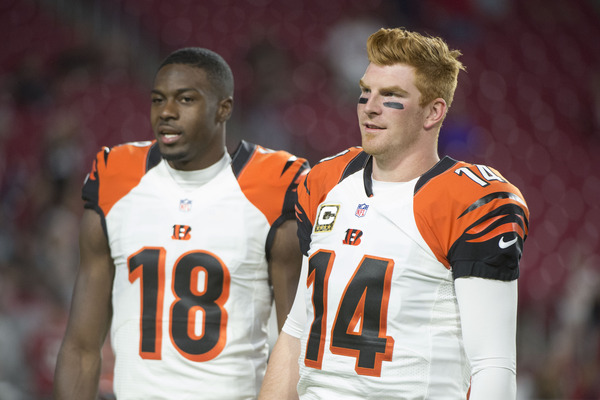 Are the Bengals, led on offense by A.J. Green and Andy Dalton, overrated? Kyle Terada-USA TODAY Sports
It's hard to prove that a team or player is overrated or underrated because perception isn't something you can totally quantify. But I do spend an unhealthy amount of time consuming NFL Twitter, reading NFL analysis and watching NFL games. I know who's getting love and who's getting hate. And I know that in some cases, teams receive too much of one or the other.
Here are five NFL teams that get too much love considering the state of their rosters.
There seems to be a perception that the Bengals just had an off year (6-9-1) and followed that up with a great draft, thus they'll contend again in 2016. But Cincinnati basically refused to participate in free agency (despite having money to spend) for the second consecutive offseason, and in that span they've now lost two two key wide receivers (Marvin Jones and Mohamed Sanu), two key offensive linemen (Andrew Whitworth and Kevin Zeitler) and a …
Read Original Post at
http://www.yardbarker.com/nfl/articles/the_nfls_5_most_overrated_teams_entering_summer/s1_13156_24254593

Sports Media 101 searches and spiders for news it aggregates from across the web about your favorite sport or sports team. This article is originally posted at another site not affiliated with Sports Media 101. The portion of the article posted here is to provide a sample of the content available at the linked site. Please click the link to read the full article. Sports Media 101 does not claim any ownership to the content and all rights are retained by the original copyright owner.
Tags:
Andrew Whitworth
,
Baltimore Ravens
,
Cincinnati Bengals
,
Dallas Cowboys
,
Detroit Lions
,
NFL
,
Seattle Seahawks